We went to Egypt, bought a car, destroyed a couple of pyramids and used the rubble to make a necklace. It was a heavy necklace so we carried it in turns. We wore clothes when we were meant to be naked and we were naked when we were meant to wear clothes. Archaeology was never a primary interest but yet, if you're asking, we did some digging. When we returned to the suburbs we were covered in dust and sand and spent the next two years watching television draped in jewels.
This is how By Nye came to be.
By Nye is a contemporary Australian jewellery label creating hand-made luxury pieces. Jewellery designer, Nye De Marchi draws on her visual-arts background and love of natural landscapes to design pieces that are both conceptual and timeless.
All materials are locally and sustainably sourced with an attention to detail. Forged through the craft of silversmithing and lost wax casting, each piece is one-of-a-kind, as is its wearer.
By Nye has been featured in publications such as Vogue, Elle, Oyster, Russh, Marie Claire, ID and many more.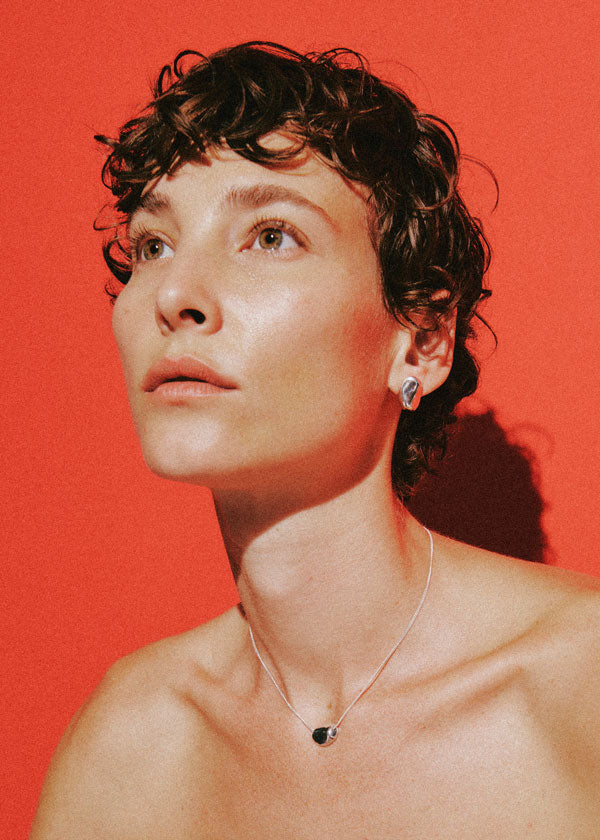 OUR APPROACH
Our jewellery is handcrafted in our studio in Naarm (Melbourne). We make our jewellery to order as much as possible, including a small selection of wholesale orders. We work closely with local casting and plating craftspeople as part of a tight-knit community of jewellery designers and makers.
We acknowledge the Woiwurrung and Boonwurrung people of the Kulin nations as the traditional custodians of the land on which we meet and work. We pay respects to elders past and present — Sovereignty was never ceded.
We commit to paying the rent, an element of restorative justice and an act of solidarity.
SUSTAINABILITY
Sustainability is a cornerstone of the By Nye practice and we are dedicated to continuing to learn and evolve processes to reduce our impact on the environment and community.
Our jewellery is created locally; working with skilled craftspeople in Australia allows us to create a smaller carbon footprint whilst creating your pieces.
We make our collections in small batches and as much as possible we make pieces to order to ensure minimal wastage. Most materials used in the design and production process are recycled. All metal off-cuts are remelted and refined; our excess wax from casting and designing are remelted and reused to create future pieces and designs. We strive to adopting a circular approach to jewellery making wherever possible.
RECYCLED METAL
All our jewellery is made from recycled metals, including sterling silver, 18ct gold plating and 9ct solid gold. Using recycled metals is important to us as it reduces further mining of the earth's resources and re-uses existing materials. Throughout the production process, no metal is wasted; all spares and un-homed pieces are melted down to be made into something new.
PACKAGING
As part of our environmental commitment, we use packaging made from recycled materials and with eco certification. Our jewellery boxes are made from FSC-certified paper and cardboard, a certification that requires no more wood to be cut down than a forest can produce. We recommend keeping your box both to safely store your jewellery and to avoid wastage.
FUTURE
As a small business, contributing to social justice and environmental efforts has always been important. As we grow, we would like to increase our contribution and continue to give back to our broader community.
We will continue to learn and educate ourselves on how our practice can evolve, both environmentally and socially. If you have a cause that you would like to share with us, please don't hesitate to get in touch.