We are committed to working sustainably across all aspects of our production process. We make our collections in small batches and use recycled metals to create each piece.
We continue to learn and evolve our processes to ensure the least environmental impact is made through the creation of your pieces.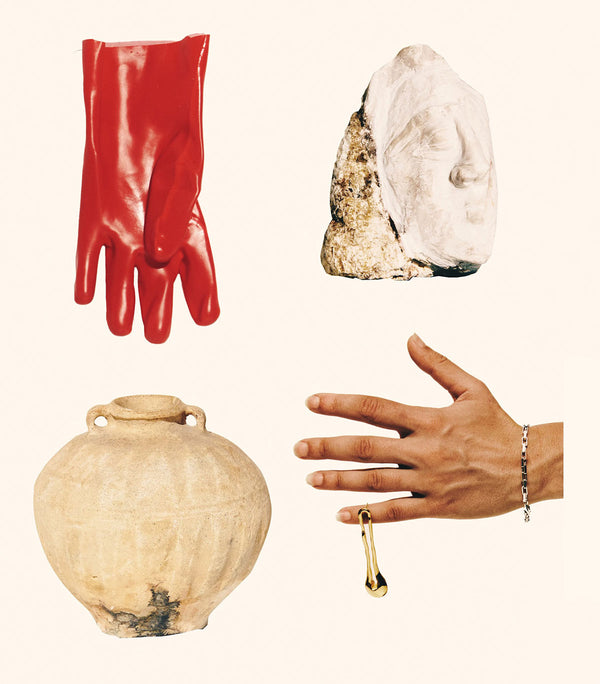 Creating Locally
Creating locally is incredibly important to us, enabling us to ensure the highest quality of jewellery is being produced, whilst minimising our carbon footprint.
Our jewellery is handcrafted in our studio in Naarm (Melbourne). We work closely with Australian casting and plating craftspeople as part of a tight-knit community of jewellery designers and makers. We make our jewellery to order as much as possible, including a small selection of wholesale orders in order to minimise overproduction and waste.
RECYCLED MATERIALS
All our jewellery is made from recycled metals, including our sterling silver, 18ct gold plating and 9ct and 18ct solid gold. All metals within the casting process are refined using entirely recycled material from local Melbourne-based metal refineries.
Using recycled metals is important to us as it reduces further mining of the earth's resources and re-uses existing materials. Throughout the production process, no metal is wasted; all spares and un-homed pieces are melted down to be made into future pieces.
PACKAGING
As part of our environmental commitment, we use packaging made from recycled materials and with eco-certification. Our jewellery boxes are made from FSC-certified paper and cardboard, a certification that requires no more wood to be cut down than a forest can produce. We recommend keeping your box both to safely store your jewellery and to avoid wastage.
TIMELESS OBJECTS
Fundamental to our ethos as a jewellery brand is longevity. To us, sustainability is not just about production but how objects are consumed. Jewellery is not seasonal in our eyes, and the care and thought that goes into making a jewellery purchase mirrors the care and consideration we put into our pieces.
For this reason, we don't have end-of-season sales and pieces don't disappear at the end of season. We value a piece we made in our first collection in much the same way as our latest collections. Ultimately, our goal is to encourage long term wearability of your jewellery to promote a more sustainable consumption of wearable objects.
FUTURE
As a small business we take our impact on the environment very seriously. There is always more to be done and we are committed to learning and evolving our practice to ensure we minimise our contribution to the degradation of our planet.